JOE ALON CENTER
The Museum of Bedouin Culture

DAROMA MUSEUM - THE CAVE CULTURE
A special wing holds a complex of five life size cave models representing various periods and cultures of area.
A Chalcolithic dwelling cave (approx. 6000 years old);
An iron Age burial cave (2,800 years old);
A secret hiding cave from the Bar Kochba revolt (1,850 years old);
A jewish burial cave from the Byzantine period (1500 years old).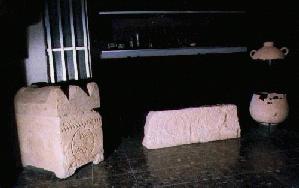 THE FALLAHIN'S CAVE - an authentic dwelling cave, in use until the War of independence (1948). The cave has been renovated and reconstructed in exact detail, and it contains authentic articles typical of the life of its former Fallahin (peasant) inhabitants.
This site maintained by LahavNet